Further Information
How to use Podium Tape
Taping can be something of an art-form, but you don't need to have a qualification or attend a course to be able to get the most out of Podium tape.
Follow our quick 'how to' guides on this site for the most popular applications of Podium tape and simply click here to contact us with an area you wish to use the tape and we will send you the technique once one of our clinical specialists has either designed the taping method specifically for you, or if it is already in our vast library we can send you one of our stock application videos that is perfect for your needs.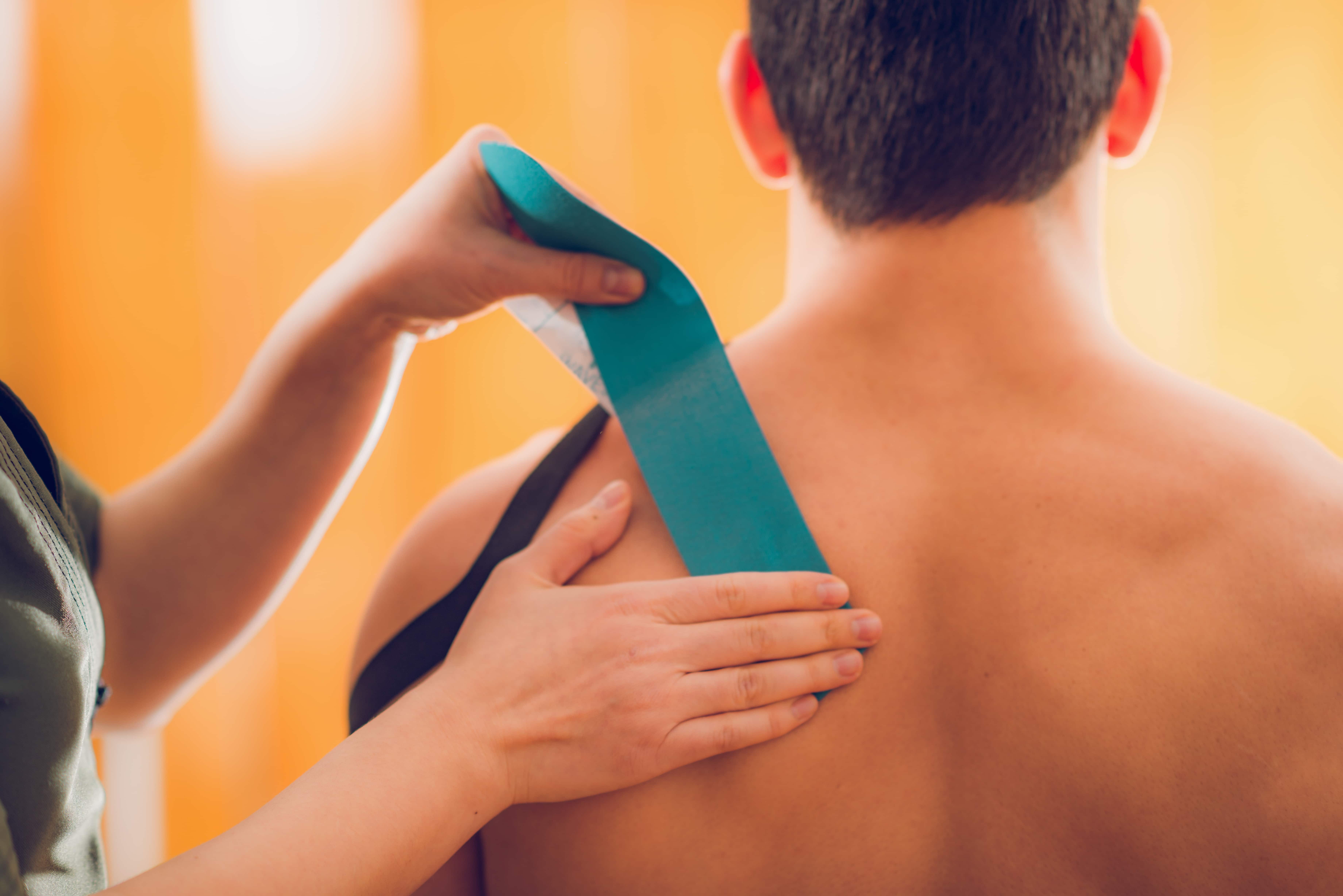 Always ensure the skin is clean, dry and oil free before applying the tape. We advise that you clean the skin to be treated with a skin sanitising gel/wipe in order to ensure the best and most durable tape adhesion. After the tape has been applied, gently rub the tape. This warms up and activates the adhesive for a longer lasting hold.
Removal of the tape: The adhesive that we use is very sticky and is designed to stay on the skin without peeling for several days. Caution must be used when removing the tape from the skin – especially for those with weak or thin skin. Start with one corner and gently pull on the tape with one hand whilst supporting the underlying skin with the other. Always pull the tape from the skin in the same direction of the hair.
Always consult a Medical Professional or Therapist for advice before using this tape. Although Podium Tape uses hypoallergenic glue and is latex free we strongly advise you to test this tape on a small area of skin for 24 hours prior to use. Should you notice any form of irritation STOP using Podium Tape immediately. Do not use if you are being treated for cancer or are suffering from any form of circulatory disease.
This tape must NEVER be used on infected skin or open wounds.

Marcus - Triathlete & Clinic Owner
I have used just about every tape on the market and actually felt very happy with the brand I was using. It was almost by accident that I discovered Podium tape when I borrowed some at an event. From the very first application I knew I had to have this tape in my clinic. The quality and feel are outstanding, it lasted so much longer than I was used to, but the most defining characteristic for me was that the tape so was so comfortable, I forgot I was wearing it. I will never use another brand of tape again.
niamh - Sports Therapist
At last a tape brand that not only looks the best, but I can promote my company on all my clients now. It's the best marketing strategy I have ever used
Joanne - Kayaker
5 days on and still looked as good as new - I am blown away'
Jimmy - Physiotherapist
love seeing my logo on clients once taped. The clients love it to, everyone reports how professional it looks and what a great idea. This single product has brought me more new patients in one month that all my other, more expensive strategies put together.